---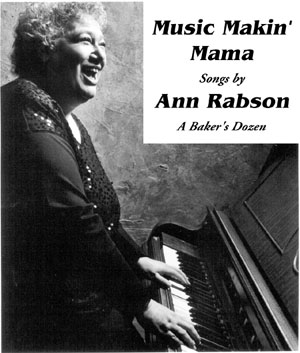 Songbook
The songbook is currently out of print.
Play along with me! My songbook, Music Makin' Mama: Songs by Ann Rabson, contains 13 of my compositions, with score and words.
Included are Annie's Blues, Don't Treat Your Man Like a Dog, Don't You Tell Me, Elevator Man, Hopin' It'll Be All Right, I Haven't Got a Clue, Music Makin' Mama, Prove Me Wrong, Rocket Ship Blues, Serial Love, Tomcat Blues, You Better Fly Right, and You'll Never Get Me Out of Your Mind.

Whether you're just getting acquainted with blues piano, or would like to try some four-hand and play along with my recordings, I think you'll enjoy Music Makin' Mama: Songs by Ann Rabson.
---
return to menu
---
---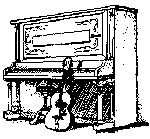 Piano Influences
People sometimes ask me for recommendations of blues piano recordings, especially for someone trying to learn to play. I've compiled a list of some albums by people who helped shape my playing. There are many wonderful albums out there, so it was really hard to narrow it down -- I've set myself a limit of 10. I've tried to find ones that are available (what's the point if you can't get them?).

I'm not including the boogie woogie players (Smith, Lewis, Ammons, Johnson, et al. -- with one exception) nor the New Orleans players (with one exception) nor those wonderful, jazzy, sophisticated West Coast guys I love so much (the Charleses -- Ray and Brown -- etc.) and limited myself to the low down blues. I'm not including the wonderful players I listened to on the juke boxes of my youth -- Little Richard, Johnnie Johnson, Jerry Lee Lewis, Ivory Joe Hunter, Smiley Lewis and Huey "Piano" Smith etc. -- with one exception. Any of these categories could produce its own Top Ten and write-up.

I'm horrified that there are no women piano players on my list of 10, except for one song. I was very inspired by several women players, most notably Mary Lou Williams (in her Boogie days) and Georgia White. My folks had 78s of them. The women players' work that's still available has them buried in bands, so they don't make the cut. I guess Louise Johnson and her sisters weren't considered much worth recording. Our loss! I'd sure love to hear an album of Katie Webster solo.

This would be my recommended 10. Many of these are solo or very sparse recordings where I could really hear the piano. So after all that BS, here's my list in no particular order:

BIG MACEO MERRIWEATHER - "King of Chicago Blues Piano" (Arhoolie)
A must! Worried Life Blues to Chicago Breakdown and every single note in between is golden.
TUTS WASHINGTON - "New Orleans Piano Professor" (Rounder)
OK, so he's from New Orleans -- but he fits right in with the rest of my gritty favorites. He's universal!
OTIS SPANN - "Walkin' the Blues" (Candid)
Everyone's hero.
JIMMY YANCEY - "Complete Recorded Works Vol 1-3" (Document)
OK, I cheated a little -- I just couldn't leave anything out. Mr. Yancey's my main man. If you want to start with one, you might want to start with the 3rd volume.
SUNNYLAND SLIM - "Chicago Jump" (Evidence)
Sunnyland has lots of releases. My favorite is "Live At The DC Blues Society" on Mapleshade, where he is solo, but this is no longer available. I like "Chicago Jump" partly because it's the band I know him with and love.
HENRY GRAY - "Lucky Man" (Blind Pig)
Henry makes deep blues completely unfettered by those mundane musical rules. I admire his music tremendously.
MEMPHIS SLIM - "Lonesome" (Drive Archive)
I love this album. I have at least 6 or 7 versions of the same LP with different covers. Just started collecting them for a lark. It's now available in CD. For those of you who've heard me perform the tune Pigalle Love, here's where it comes from.
LITTLE BROTHER MONTGOMERY and ROOSEVELT SYKES,
on the SIPPIE WALLACE album "Women Be Wise" (Alligator)
I've heard a rumor that this lovely album may no longer be available. That would be a shame. This is what accompaniment should be. Miz Wallace's singing is lovingly enhanced and enriched by Mr. Montgomery's and Mr. Sykes' playing. One cut features a charmingly idiosyncratic accompaniment by Miz Wallace herself.
LEROY CARR (with Scrapper Blackwell) - "Blues Before Sunrise" (Portrait)
A great artist -- I never found him easy to learn from, but just love to listen.
AMOS MILBURN - "Down the Road a Piece" (EMI America)
OK, so he's kind of West Coast/kind of boogie woogie and he was on my juke box. Still he makes the list.
There are many others who have been a huge influence: Cripple Clarence Lofton, Georgia Tom Dorsey, Walter Davis, Alex Moore, and on and on.

There are also some wonderful contemporary players you can hear in person like Joe Krown, Deanna Bogart, Erwin Helfer, Omar Sharriff, Marcia Ball ... to name a few. It's a big, beautiful piano world out there!
---
return to menu
---
---
GREAT NEWS!!!
For ages I've complained bitterly to anyone who would listen about the lack of available recordings by the outstanding Chicago piano legend Erwin Helfer. Now I want to let you know about the release of a wonderful new recording by Mr. Helfer.
The CD is called "I'm Not Hungry But I Like to Eat—Blues," which is the title of one of Erwin's five delightful originals. Whenever I hear Erwin play his charming composition "Pooch Piddle," I think, for some reason, how nifty it would sound played by a Mariachi band. Another original, "Stella," which is a moving tribute to Estella "Ma" Yancey, is a lovely duet with saxophonist John Brumbach, whose soulful, tender playing graces four tracks. Other than that, the CD is ALL Erwin's superb piano.
In addition to the originals, Erwin covers a variety of tunes. He starts with his take on the rollicking Pete Johnson classic "Swanee River Boogie." He makes Percy Mayfield's "Please Send Me Someone to Love" sound far more traditional than I could have imagined. Another high point for me is Erwin's take on "Do You Know What it Means to Miss New Orleans." I never thought much about that tune till I heard the Helfer version. It's so wistful. It feels like missing something lovely, lost and long ago.
I could go on and on. There are no duds here. There are fifteen numbers in all and each one is a gem. The recording quality is really excellent. The piano sound is very real. I know nothing about recording sound but I hear the clarity, warmth and depth. Oddly, I love the way the empty spots "sound," like in the tunes "Dirty Dozens" and "In A Sentimental Mood," which have lots of sonic space. I may not be expressing this real well, but listen and you'll see what I mean.
I would highly recommend this CD to anyone who enjoys blues and/or traditional jazz piano -- even those who don't know they do.
Unfortunately, you probably won't find this CD at your local mall, but you can get it from Erwin if you're lucky enough to catch him live. You can get it at the big Tower store on Clark in Chicago, or from Amazon.com, or directly from The Sirens Records:
The Sirens Records
P.O. Box 1997
Highland Park, IL 60035-1997
And take a look at Erwin's new Web site: www.erwinhelfer.com.
Best wishes,
Ann
---
return to menu
---
---
FOUNDATION OF THE BLUES
I want to tell you about an organization which is vitally important for the blues today, called the Blues Foundation. It's an bunch of fans, artists, and people involved with all aspects of the blues. It has provided a real leg up to many blues musicians, including me as a solo performer and including Saffire, and has enhanced and elevated the blues world in general.

I want you to consider joining or renewing your membership. It costs only $25 and there are many benefits for us blues lovers. Of course, if you've got a little extra money there are extra benefits for various higher levels of giving, but the basic $25 will get you all the following:

DISCOUNTS - Many of the best blues venues give discounts on food, merchandise and cover charges. This can really add up!

HAVE YOUR SAY - You get a ballot so you can vote for the Blues Music (formerly W.C. Handy) Award winners. It allows you to have a say in who receives these important and prestigious awards. I've been nominated often for various awards. SAFFIRE has been, too and Saffire's own Gaye Adegbalola won Song of the Year one year for her popular composition "Middle Aged Blues Boogie" (which everyone knows as "Young Young Man").

ALL THE NEWS THAT FITS THE BLUES - You get a very interesting and informative quarterly newsletter.

BEST SEATS IN THE HOUSE (party) - You have first chance for tickets to the Blues Music Awards show. A wonderful cavalcade of blues stars held in Memphis every year. Kind of like the Emmys or the Oscars with a better groove, better clothes and a whole lot more fun. LIKE A BIG HOUSE PARTY!

The Blues Foundation is "on a mission" to preserve Blues history, celebrate Blues excellence and support Blues education.

Please check them out at www.blues.org or call 800-861-8795 and join up today.

Ann
---
return to menu
---